"… a Mediterranean cruise up the Yangtze!"
-- Wig
Crackup Ottawa Comedy Festival 2020
Helping raise funds for medical supplies in Wuhan, China
Thursday, March 26, 2020
CANCELLED due to Covid-19 restrictions
I am thrilled to be invited by Dashan to join his comedy show on March 26 in Ottawa as Special Guest. Hope to see you there for an exciting night of Chinese comedy and for a great cause!
大山和他的朋友们:中英文脱口秀之夜
Dashan and Friends Chinese Comedy Show
爆笑首都喜剧节 - Crackup Ottawa Comedy Festival
大山是中国观众非常熟悉的国际友人。《人民日报》曾评价:"大山虽然是外国人,但不是外人"。现在大山首次带着他的《大山侃大山》单口喜剧重返故里渥太华,并偕同几位顶级的华裔笑星一起奉献一场中英文跨文化喜剧脱口秀专场。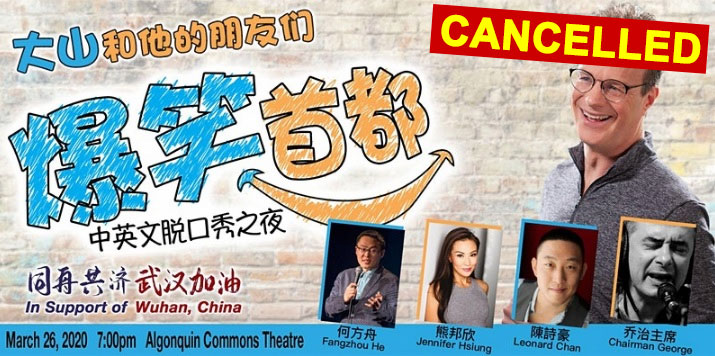 A rock bouzouki-playing Greek Canadian ex-civil servant with a PhD in statistics who is a star in China.
1 billion fans can't be wrong:
In China, George is Elvis.
In Canada, George is Greek.
About Chairman George
World music? Try worlds music.  Old meets New. East meets West. Tradition meets the space age. Award winning Greek-Canadian singer, songwriter, band leader and musician George Sapounidis aka 'Chairman' George has performed to sold-out audiences in the world's most populous nation: 40 performance tours of China in 25 cities including at the Beijing Summer Olympic Games and the Great Hall of the People. In 2015 he reached the finals of the national CCTV show in Beijing "I Want to Perform at the Spring Festival TV Show" viewed by tens of millions of Chinese viewers. Two-time subject of Canadian and Chinese television documentaries and two-time Athens and Beijing Olympics Torch Bearer. He has performed in China with the virtuoso Erhu artist Ma Xiaohui and in Canada with the China Radio and Film Symphony Orchestra. The Beijing Municipal Government invited him to perform in Ottawa during Beijing Week in 2017 celebrating Canada's 150 Anniversary where he performed his original work "Beijing Ottawa Sister City Song" and in Athens, Greece in 2018 to host the "Olympic City, Silk Road Connection" tourism meeting where he performed the Beijing Olympics song duet "Beijing Welcomes You". In October 2018 he and his band released his newest CD titled "Bringing the Greek Party to China!" at the National Arts Centre in Ottawa, Canada. 'Chairman' George holds a Ph.D. in mathematical statistics from the University of Toronto, Canada.
关于乔治主席
作为屡获殊荣的希腊裔加拿大歌唱家、作曲家、音乐家以及乐队主唱,乔治主席在中国25个城市为成千上万的观众们送去了40场精彩的巡演,其中包括在北京夏季奥运会上和人民大会堂的演出。2015年,他成功晋级到被上千万中国观众关注的中央电视台"我要上春晚"节目的决赛中。中加两国曾分别拍摄以乔治主席为主题的纪录片,并且他在希腊和北京奥运会火炬传递中都担任了火炬手。他在中国与二胡表演艺术家马晓慧同台,也在加拿大与中国广播与电影交响乐团一同演出,更是受到北京市政府的邀请,在位于加拿大首都渥太华的2017北京周中演唱了他的原创作品《北京渥太华友好城市之歌》。在他的家乡希腊雅典,乔治主席主持了2018年以《奥运之城,思路相连》为主题的活动,并演唱了北京奥运会主题曲《北京欢迎你》。2018年10月,乔治主席乐队的新唱片《希腊派对席卷中国》在渥太华国家艺术中心正式发布。乔治主席拥有多伦多大学数学统计学的博士学位。