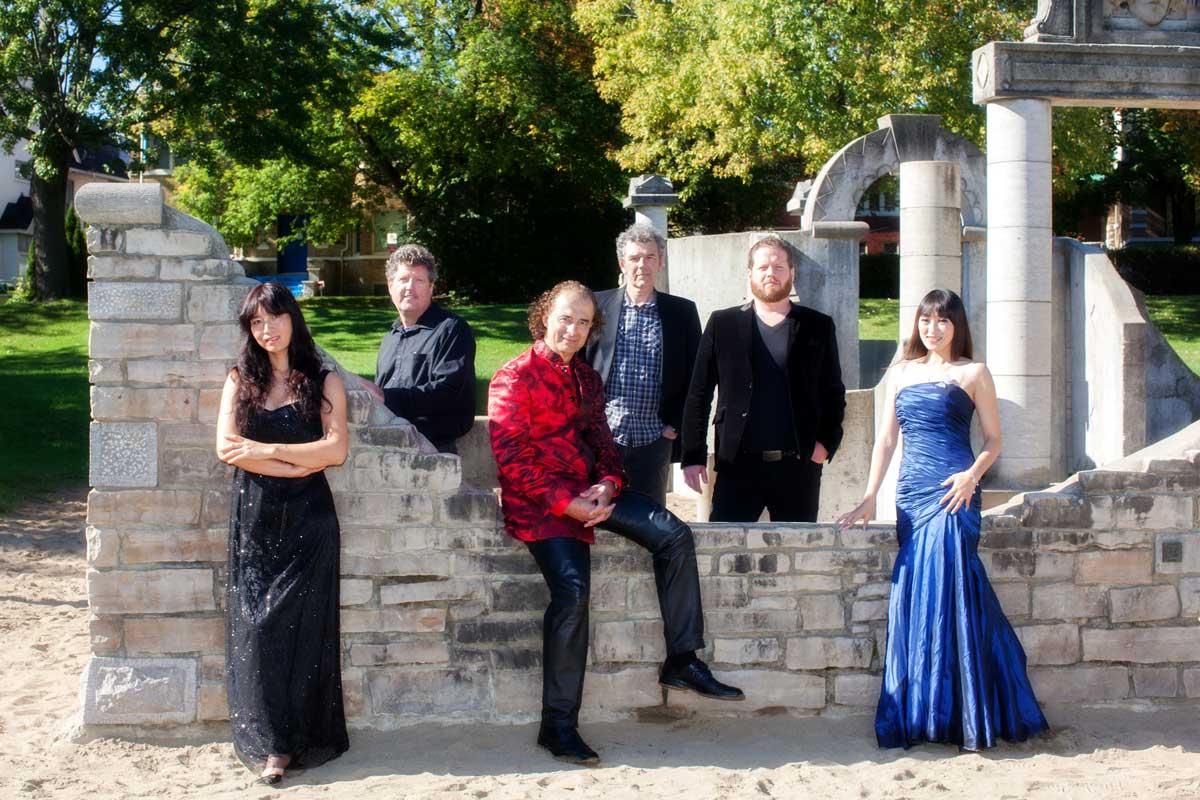 Bringing the Greek Party to China!
It's old school. With a new instructor.
In the land of the Great Wall, Chairman George has built many bridges.
This sturdy album is his latest. It has been thousands of years in the making.
Melodic masterpieces of Greek and Chinese origin, seamlessly chiseled into something wholly original by a musical architect and his accomplished band. Ancient societies joined in song by a Modern World visionary. It has taken generations for each storied land to find the right man for the job.
Even if neither knew it was looking for him.
Enter, Chairman George, with an improbable mix of genres, of cultures, of worlds. Worlds apart, brought together. World music at its most worldly.
It's not as simple as it sounds. There's a startling originality behind the concept: it's an idea that may well be a thousand years ahead of
- or behind - the times.
Perhaps both. But for Chairman George, the time is now.
There is method to his madness. George will happily regale you with tales of performances that have left prim dignitaries open-mouthed, of being mobbed by fans following live concerts, of literally carrying the torch for his beloved Greece and China, of having been the focus of not one but two acclaimed documentaries, of three dozen celebrated tours in the world's most populous nation, of sold-out houses and televised live performances seen by tens of millions.
He'll tell you of the inevitability of the album now in your possession, of Bringing the Greek Party to China!
But you'd never believe it. Any more than one might believe the very idea of a mild-mannered Greek-Canadian musician singing in Mandarin.
Yet it's all true. It resonates from every infectious flourish of this wide-ranging collection of songs. This album is your ticket to a wild ride with a unique performer. It is indeed a party, and this is the soundtrack – an unlikely concoction that brings together Greek bouzouki, western electric guitars and drums, and Chinese pipa and guzheng.
It is novel. It is not novelty.
The sound of Chairman George is the sound of an artist and his band joyfully breaking down barriers. The vocals are in multiple languages. Ditto, the music – whether a beauteous Chinese ballad, a thumping disco number, a touch of Zorba the Greek, a virtuosic instrumental or, yes, a bit of Mandarin rapping.
After all, sometimes we are not even aware of barriers until after they have been broken. So let's raise a glass of baijiu in celebration of one more bridge, and one less barrier.
Opa!
-Wig (April 2015)
ARTIST
CHAIRMAN GEORGE
GENRE
WORLD MUSIC
ALBUM
Bringing the Greek Party to China!
BAND MEMBERS
George Sapounidis: vocals, bouzouki, guitar
Yadong Guan: pipa
Stuart Watkins: electric bass, backing vocals
Ross Murray: drums, percussion
Fred Guignion: electric guitars, lap steel
Zichan Yang: guzheng
Yadong Guan is a pipa virtuoso whoseartistic sensitivity immediately evokes the sound of ancient China giving it a new modern twist, its bright tremolo flirting with the bouzouki, creating exhilarating new directions into disco pop and folk ballads. As a soloist, she has also formed her own band in which she works as a composer and performer.
Stuart Watkins' (electric bass and backing vocals) talents span the global musical spectrum. He has worked with hip hop artists in Los Angeles and studied Mblalax music in Senegal (a popular dance music that is a fusion of jazz, soul, Latin and rock, merged with sabar traditional drumming) that emerged in the 1970s. He has played reggae as well as Bhangra (Indian pop) and tango. Stuart has also taught performance at Carleton University to bass guitar students. And he has toured the world with the best: artists like David Foster, Paul Anka, The Tenors and Aretha Franklin.
Ross Murray, the band's drummer and recording engineer, has recorded and toured with luminaries such as Bruce Cockburn, Bo Diddley and Etta James. A well known musician among world artists he has been a producer, engineer and musician for over 30 years, collaborating with bands, vocalists, composers, choreographers and filmmakers worldwide. His adventurous experimentation with different musical genres -- from pop to the music of diverse cultures -- continues to introduce new and exciting inventiveness to the band.
Fred Guignion's electric guitar stylings have been featured on countless albums as well as in theatre and film soundtracks. He is as comfortable with a folksy ballad as he is with searing heavy metal. He has toured the United States, Europe, the UK and Canada.
Zichan Yang, an international guzheng soloist and educator, is the founder and the Principal Director of the ZiChan Interna- tional School of Arts in Canada's capital Ottawa. She has cultivated an appreciation around the world -- from China to North America and from Southeast Asia to Japan -- for this venerable, mellow instrument and its wide tonal range. With Chairman George she introduces a new playful element to this ancient court instrument.
Guest Musicians:
Dave Bignall: guitar
Lan Tung: erhu
Jeff Rogers: keyboards
Ana Miura: backing vocals