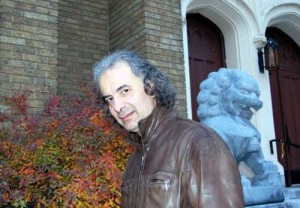 Performance on Yunnan TV, 2013, 3 hour variety show broadcast across China by satellite.
Subject of three-part half-hour documentary series My 2008 produced by Tianjin Satellite Television aired across China over three weeks in August 2009.
Released Expect the World in 2008, an Olympic themed world-pop CD with songs in Mandarin, English and Greek.
Performed at prestigious Beijing Forbidden City Concert Hall, the Great Hall of the People with China's top pop and classical music icons and on national Chinese and Canadian radio and television.
Frequently profiled on Canadian and Chinese national and regional TV and radio as well as the Toronto Star, the Globe and Mail and Chinese and Greek press.
One of the final Olympic torch bearers carrying the torch immediately prior to the 2008 summer games opening ceremonies in Beijing viewed by one billion Chinese people; the only Canadian to be regarded as an "honorary" Beijing citizen, chosen for his work in promoting Chinese culture.
Host of national 2007 CBC TV special, China-Canada, Hand in Hand, A Celebration of the Olympics.
MC for Chinese Shaolin Kung Fu monks 2005 "feats of endurance" performances at Toronto Skydome and Ottawa Civic Centre.
Subject of award winning 2005 documentary Chairman George: Quest for the Torch, a W5 CTV/BBC/TV2 Denmark production which has aired at numerous film festivals worldwide (China, Mexico, Quebec City, Taiwan, the U.S., Yorkton, Toronto, Montreal and Calgary) and network TV including Al Jazeera, CTV and BBC.
George from Athens to Beijing 21-song CD sound track from the documentary nominated for Best World Music in Canada at the 2005 Canadian Folk Music Awards.
Olympic torch bearer for 2004 summer games in Athens and National Olympic Committee Assistant to the Chinese delegation.
Currently under consideration to be the "face" for promotional endorsement of a Greek olive oil company in China.