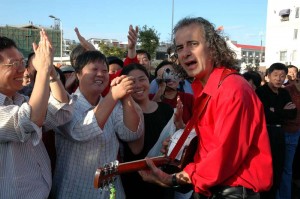 "It hangs together beautifully, has a huge heart, and is one of the truest and most creative musical fusions that I have ever heard. Amazing stuff!" Penguin Eggs 2006
This quote is what Penguin Eggs, "Canada's folk, roots and world music magazine" had to say of George Sapounidis' 2005, 21-song CD, George from Athens to Beijing, the soundtrack for the documentary Chairman George: Quest for the Torch which intimately chronicles George's passionate but star- crossed quest to sing at the opening ceremonies of the Olympic Summer Games when the torch passed from Athens to Beijing.
Known by his ardent Chinese fans as "Chairman George", this bouzouki-playing former civil servant (he holds a PhD in mathematical statistics) and Canadian troubadour has made over 30 trips in the last decade to perform at international festivals and TV stations across China where he is a singing sensation.
Neither is he a stranger to Canadian audiences, singing and performing international folk songs, on bouzouki and guitar in Mandarin, Greek, Spanish, Hebrew, Arabic, Persian, Russian, Hindi, English and French in Ottawa for cultural communities from across the globe. In fact, it's how he first came to the attention of Chinese diplomats exactly 13 years ago. Soon after, the Chinese embassy invited him to perform at two international arts festivals in China. It catapulted him to fame. He became a media darling, charming his interviewers with his impressive grasp of Mandarin. He was recognized everywhere he went, disarming people with his spontaneous street theatre performances that went viral.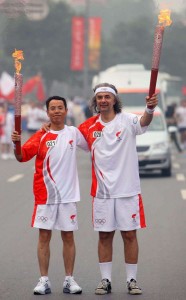 A two time Olympic torch bearer, TV personality, cultural ambassador and subject of both English and Chinese network documentaries, he has been called the poster boy for Canadian multiculturalism and "an all round world musical ambassador."
A descendant of Ottoman Greeks forced into exile and poverty by war, George infuses his Greek folk music with an intensity and passion rooted in the rebellion and despair of his ancestors, a people steeped in non conformity. His repertoire embraces everything from a rock-infused interpretation of Greek folk songs, to traditional ballads which he performs at folk festivals, fairs, awards ceremonies, variety shows and club dates as well as radio and television.
He is now devoting his full attention to his music – a mix of folk, rock and traditional Chinese songs, moving towards a fusion of Greek and Chinese, channeling the exuberance of his Greek music into a gentle flirtation with the tranquility of age-old Chinese ballads. He is working to create hybrid compositions, lyrically and instrumentally, with modified rhythms and harmonized blends of Greek and Chinese traditional popular songs and instruments which he plans to introduce in a new fusion CD and international concert tour.