Enter, Chairman!
"I am," George Sapounidis asserts, "probably the only Greek singer who performs in Chinese."
Probably? All Canadian Greek-Chinese fusion specialists, please step forward. Right, then, George. Uniqueness, achieved.
In a world of over 7 billion people, that's no small achievement. Moreover, it is an achievement that has earned this affable artist acclaim, respect and admiration in the ancient land that is home to over 1 billion of those worldly denizens. In that land, Sapounidis has been embraced as a cross-cultural musical trailblazer, known affectionately as Chairman George.
As Chairman George, a moniker adopted from the title of an award-winning 2005 documentary all about the artist and his quest for Olympic glory of a sort, this Greek- Canadian singer, songwriter, bandleader and bouzouki player has turned an unlikely dream into reality. Still viewed as something of a curiosity at home, the Ottawa-based performer has performed to sold-out audiences over the course of 30 tours of China. He has done so by reimagining traditional material ranging from Canada"s storied Red River Valley to Greek and Chinese folk songs, as a spirited mix of disarming ballads and souped-up rockers sung in Mandarin.
Perhaps it shouldn't work. But in the hands of the talented Chairman and his accomplished five-piece band, as Richard Thornley enthused in the folk, roots and world music magazine Penguin Eggs: "It hangs together beautifully, has a huge heart and is one of the truest and most creative musical fusions that I have ever heard. Amazing stuff!"
Not convinced?
Writing of George From Athens to Beijing, soundtrack to the CTV and BBC broadcast documentary from which George acquired his Chairman title, the influential American folk music bible Sing Out! praised the artist's musical vision. "That he's good is beyond question," the magazine confirmed.
Factor in two Canadian Folk Music Awards nominations for Best World Music Artist, 150-plus international television appearances – many to tens of millions of viewers – and praise from dignitaries, promoters and fans around the world, and Chairman George's status as the world's foremost Greek singer performing in Chinese can hardly be challenged.
Not bad for a veteran musician born and raised in Canada, of Greek but not Chinese descent. His sincere desire to bring people together through music is born of a genuine fascination with and understanding of multiple languages and cultures.
The world, one might say, needs more Chairman George.
True, the Chairman's musical mash might at first strike the unsuspecting initiate as the stuff of lunacy. After all, we're not talking mere jazz-blues or country-rock fusion here. Yet, to hear the man alight at the memory of his arrival in China in 2000 for his first concerts in the land he so admires, is to begin to see the method behind such apparent madness.
"I remember breaking through the skies and hearing, 'Ladies and gentlemen we're now flying over mainland China,'" he recalls with clear reverence. "I peered through the clouds and saw below me, this ancient land. It was – what's the Greek word - a Eureka moment. I was over this 5,000-year-old land, which is parallel in ancient culture to Greece. It was magical, that moment."
Two of the oldest of Old World lands, their cultures mashed in glorious musical fashion by an enthusiastic and studied musician from one of the newest of the New. In the hands of Chairman George, it seems not only natural, but inevitable: Greek songs performed in Mandarin, fresh sounds in a cluttered global cultural landscape.
Welcome to the new ancient land of Chairman George. You have heard nothing like this before. No 'probably' about it.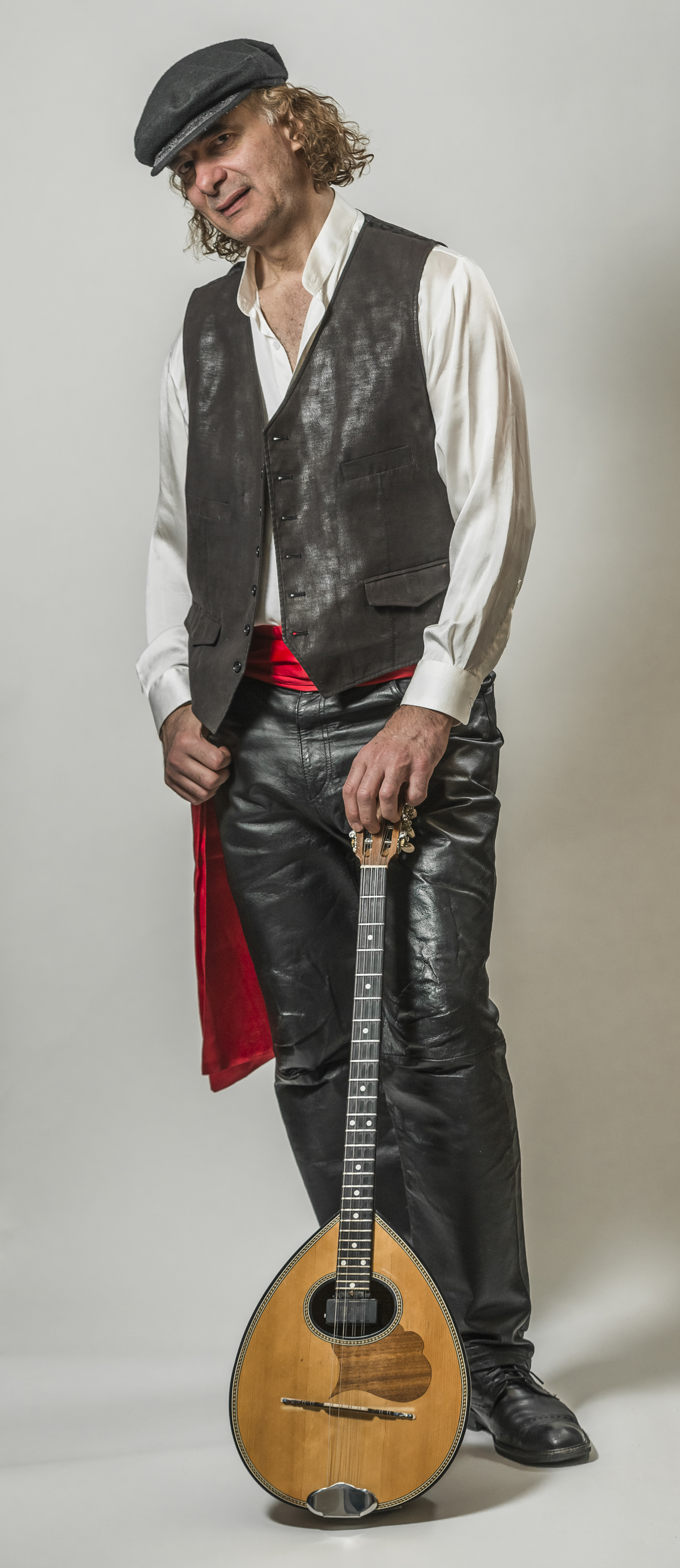 From ancient cultures are born revolutionary sounds. Driven by a determination to reimagine songs of the ages as sounds for our age, Greek-Canadian Chairman George presents a unique form of artistic fusion – one where the bouzouki cohabits with the pipa, where melodic Greek songs are performed in Mandarin, one where there are no borders. It's a Mediterranean cruise up the Yangtze, and this is the soundtrack. In an era of too much conflict,
Chairman George brings worlds together in celebration. And in dance.
Career Highlights
| | |
| --- | --- |
| 1 | Reached nationally televised finals of China Central TV Show for Chinese Spring Festival TV Gala |
| 40 | Performing tours in China |
| 25 | Chinese cities toured |
| 17 | Years touring China |
| 2 | Nominations for Best World Music, Canadian Folk Music Awards |
| 6 | Albums / EP |
| 2 | TV documentaries broadcast in Canada, China, Taiwan, U.S.A., U.K., Denmark, Middle East |
| 2 | Olympic torch bearer: 2004 Athens Olympic Games, 2008 Beijing Olympic Games |
| 50 million | Average TV viewers, radio listeners per performance in China |
| 1 billion | Chinese TV viewers 8/08/2008 watching Chairman George run with Beijing Olympic Torch |
Chairman George Professional History
Discography
Bringing the Greek Party to China 2018 - (to be released)
Ouzo Power Greatest Hits Vol 1 - Feb 2011
Expect the World - Dec 2008
George from Athens to Beijing - May 2005
Ouzo Power EP - May 1994
Ouzo Power - May 1989
TV Documentaries
Chairman George Quest for the Torch - (CTV – BBC W5   Canada, UK, Denmark)
My 2008 - (Tianjin Satellite Television   China)
Music for Television Documentaries
2009    My 2008                      China
2008    Made in China             U.S.A.
2005    Chairman George       Canada
MC
Athens Beijing Silk Road Meeting (Athens, Greece) - May 2018
Olympic Reunion Centre Beijing – International Concert - August 2008
International Performing Arts for All China Tour - September 2008
CBC Television Special (Vancouver, BC)
China-Canada Hand in Hand – A Celebration of the Olympics - December 2007
Canada Day Celebrations (NCC, Ottawa) - July 2002
Chinese Shaolin Monks (Toronto Skydome, Ottawa Civic Centre) - September 2005
Speaker
Beijing Olympic Foreign Volunteers Training Session  -  August 2008
International Forum on Beijing Olympic Games - July 2008
Beijing Capitol Library - June 2008
D'Arcy McGee High School (Gatineau) - 2008
Elmwood School  (Ottawa) - 2007
l'École d'éducation internationale de McMasterville  (Montreal) - 2007
Consultant
National Asian of the Year Awards – Canada - 2009
IPAFA (International Performing Arts for All) – Canada, China 2006-2008
International Media Profiles
Canada
CBC Newsworld  (National)
CBC Radio As It Happens (National)
CBC Radio Canada (National)
CBC Radio Canada International
CBC Radio All in a Weekend (Montreal)
CBC Radio All in a Day   (Ottawa)
CBC Radio Ottawa Morning
Globe and Mail
Ottawa Citizen
Toronto Star
China
China Radio International (CRI)
Beijing Evening News cover
Beijing Morning News
Radio Beijing
CCTV Olympic Channel
Sohu.Com  Chinese official Olympic website
CCTV Music Channel
Dongguan TV ,   CHINA Daily  ,  Xinjing Bao
Qingdao Radio and Shandong newspaper
Oriental Outlook (Xinhua She) magazine feature
Sina.Com interview internet
CCTV9 at Bird's Nest
CCTV9 Olympic Talk Show
Greece
Greek Radio – Athens
Big Fish Magazine in 'To Thema' – Athens
Fund Raising Performances
Canadian Red Cross (for Bangladesh)
CanHave (for Uganda)
Bempong Foundation           (for Rwanda)
Salvaide (for El Salvador)
Awards
2011 Canadian Folk Music Awards
Nomination for Best World Music Album
Sound Recording: Ouzo Power Greatest Hits Vol 1
CANADA
2007 China International Documentary Film Festival
Award for Most Original Perspective
Documentary Film: Chairman George
CHINA
2006 Silverdocs Documentary Film Festival
Sterling Feature Honourable Mention
Documentary Film: Chairman George
USA
2006 Yorkton Short Film and Video Festival
Jury Award
Documentary Film: Chairman George
CANADA
2005 Canadian Folk Music Awards
Nomination for Best World Music Album
Sound Recording: George from Athens to Beijing
CANADA
Grants Received
Canada Council for the Arts: Music Production Grants 2014
Canada Council for the Arts: Audience & Market Development Travel 2014
Ontario Arts Council OAC: National and International Touring 2014
FACTOR International Showcase 2014
FACTOR Domestic Showcase Grant 2011
FACTOR Collective Initiatives Support (music conference) 2000
Canada Council for the Arts: Small Ensembles Rehearsal Support 1994
FACTOR Professional Demo Award 1993
FACTOR International Showcase 1993
Multiculturalism Canada Recording Support 1990
Academic Background
George Sapounidis holds a Ph.D. in mathematical statistics from the University of Toronto, Canada.